Cosmo Window & Door of L.I. is now stocking MiraTEC® composite trim! Made from the patented TEC™ process, MiraTEC® Treated Exterior Composite trim combines the eye-catching beauty of cedar with the long-lasting performance of an engineered product.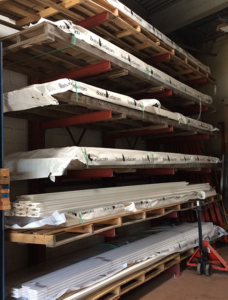 We're stocking Smooth Select™ in the following sizes:
5/4 x 4 x 16'
5/4 x 6 x 16′
1 x 4 x 16'
1 x 6 x 16'
1 x 8 x 16'
1 x 12 x 16'
Engineered to outperform.
•Resists moisture, rot and termites
•Handles like wood; easy to machine, cut and nail
•Won't check, split or crack
•TEC™ patented manufacturing process makes MiraTEC a solid board that has uniform properties throughout for consistent performance in every piece.
•Primed with an ultra-low VOC, white primer containing a mildewcide
•Distinction of being the first and only wood composite to earn an evaluation report (ESR-3043) from ICC-ES.
•Industry-best 50-year limited warranty
Nothing's Greener.
•Unlike wood and PVC, MiraTEC is made from sustainable materials.
•Unlike fiber cement, MiraTEC is silica free. Silica is a known carcinogen.
•MiraTEC has no added urea formaldehyde, complies with CARB
•Contributes to LEED
Beyond its smooth appearance, MiraTEC has a tough side.
•Hammers PVC… MiraTEC is kind to the environment, performs great in any color and is a better value.
•Slams Primed Wood… MiraTEC outlasts and outperforms wood, with a 50-year limited warranty to prove it.
•Crushes Fiber Cement…MiraTEC resists moisture better, handles like wood and is offered in 16' lengths and is a greater value.
•Pulverizes Hardboard/Fiber and OSB… MiraTEC is 9 times more durable!
Third party test details are available. Contact miratec-testdetails@jeld-wen.com