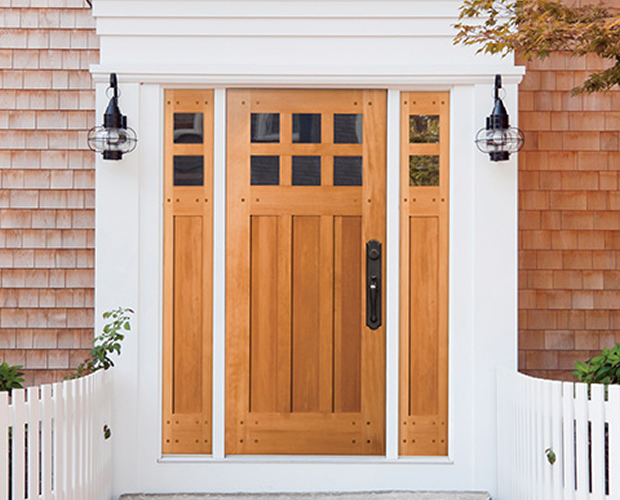 Durable and Beautiful Finishes
Simpson Nantucket Series: In the Simpson tradition of exceptional performance, these doors combine durable, weather-resistant wood species with a modified mortise-and-tenon construction technique. The result is a door that will retain its rugged beauty and last for years and years, regardless of what nature sends its way.
Choose from three wood species options, Douglas Fir, Sapele Mahogany and Nootka Cypress, each one as beautiful as it is durable. Because the grain patterns and color of natural wood will vary, your door will have a one-of-a-kind texture, warmth and personality.
Simpson Performance Series: Developed for exterior doors that are subject to harsher environments, Performance Series® is a selection of options that deliver maximum protection for your finely crafted Simpson door. There are two Performance Series options, UltraBlock® and WaterBarrier® Technologies. The combination of these two technologies creates a door suited for the toughest exposures.
Masonite Torrefied Doors: Torrefication is an all natural "green" process that has been used for centuries to enhance the durability and the esthetics of wood. This process involves treating wood at a relatively high temperature over a period of time. This heat treating process stabilizes the lumber, alters the molecular structure and makes the wood resistant to fungal decay.
Masonite Wood Door offers three torrefied species: VG Douglas Fir, Appalachian Poplar and Mahogany. Because of the torrefication process, the solid lumber used to make these doors will not warp, twist or cup and you can finish your doors a dark color, face it south or west and not have to worry about an overhang. No other wood door can perform under these conditions.
Gallery of Exterior Wood Performance Doors